Dimensions
50 mm x 70 mm x 5 mm (without connectors & switches)
50 mm x 70 mm x 8 mm (with connectors & switches)
Application Processor
Quad Core 64 bit ARM Cortex A53 @ 1.2 GHz
Modem
Integrated Modem with Cat 4 LTE support, 3G/2G fallbacks. Dual SIM support (DSDS). Supports voice, data & SMS.
1,2,4,5,8,13,17 (North America)

1,2,3,4,5,7,8,20 (Europe hardware)
System Memory
1 GB LPDDR3 533 MHz (upgradable to 2GB)
Storage
16 GB in-build storage (eMMC)
Additional Storage
Micro SD Card, SD 3.0 (UHS-I)
Wireless Connectivity
WiFi b/g/n, BT 4.1, BT LE 4.0. User selectable Bluetooth power mode (Class 1/Class 2)
GNSS
Qualcomm iZat Gen 8C with support for GPS/GLONASS/Beidou,AGPS support
Audio
Speaker (2W, 8 Ohm), Primary+Secondary Mic, Earpiece, I2S
Sensors
9 axis accelerometer, ecompass, gyroscope
Battery
3.7/3.8V LiPoly Batteries
Battery Charger
Integrated high current (2A) charger for LiPoly battery supporting Qualcomm QuickCharge 2.0
Camera
4 lane MIPI CSI (rear) camera supporting upto 13 MP camera, with Autofocus support
1 lane MIPI CSI (front) camera supporting upto 5 MP camera
Display
4 lane MIPI DSI interface supporting a maximum resolution of 1080p @ 60Hz
Wireless Display (Miracast) upto 720p @ 30Hz
GPIOs
15 GPIOs (9 with platform wake-up capability)
Low speed interfaces
Multiplexed UART (upto 2), SPI (upto 4), I2C (Upto 4) interfaces. Unused pins can be used as additional GPIOs
Buttons
Power (Button)
Volume Up & Down (Pads)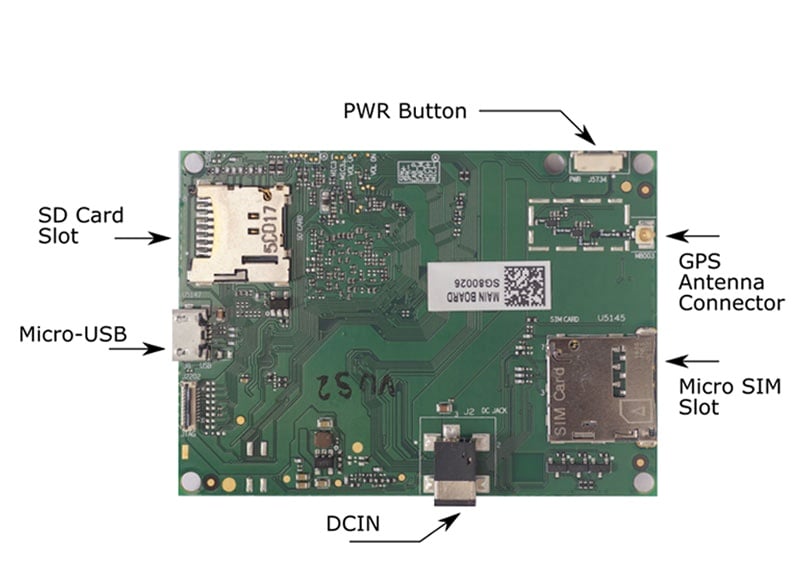 CONNECTOR
CONNECTOR TYPE
SIGNALS
OPTIONAL/INCLUDED
USB
USB Micro B
USB 2.0
Optional
DC Input
DC Power, GND
Optional
SIM
Micro SIM
SIM 1
Optional
SD
Micro SD
SD Card
Optional
Expansion
120 pin board to board connector,
4mm stacking height
GPIOs,UART/I2C/SPI,
system power, SD,
SIM1 & 2, USB,
Audio signals, Buttons
Included
Primary Camera
30 pin FPC
4 lane MIPI CSI,
autofocus, power, CCI
Included
Secondary Camera
24 pin FPC
1 lane MIPI CSI,
power, CCI
Included
Display
30 pin FPC
4 lane MIPI DSI, I2C,
I2S, PWM, Power,
Extra GPIOs
Included
LTE Primary Antenna Connector
IPX
Included
LTE Diversity Antenna Connector
IPX
Included
WiFi/BT Antenna Connector
IPX
Included
GPS Antenna Connector
IPX
Included
Battery
Power, GND, Thermal sense, I2C
Optional
The Display connector supports MIPI displays. The display connectors includes an I2C interface, which can be used to directly interface a touch panel. A backlight PWM pin, power & GPIO signals are provided to make it possible to directly interface common MIPI displays panels with integrated touch. Interfacing LVDS/RGB/HDMI displays requires usage of a bridge chip and circuitry to convert the signals. I2S signals are also routed to the display connector – this can be used to implement HDMI audio if required.
USB Micro B, DC Input, MicroSIM, and MicroSD connectors are mounted in development boards. They are, however, optional in production boards. The signals on these connectors are routed to the expansion connector as well – this allows placement of the connectors at an appropriate place, as required in the target application.